Fall has arrived and so has this quarters installment of the "Great Product Swap". This time around I was paired with the super talented, super funny teacher Shuna from Pocket Full of Kinders.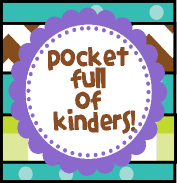 She always makes me laugh with her witty blog. She also makes great teaching packets that your students are sure to enjoy. For the product swap I got to review her "At Word Family Pack". It was AWESOME!! ...Over 100 pages of greatness. Check it out:
The packet includes the following:
*-at family word cards with pictures
*identify the beginning sound of each -at word with pictures
*-at word family playdough and trace mat
*stamping -at words
* cut and paste
* I have Who Has
* -at words mini book
* cut and paste -at words mini book
* word search
*write the room
*mystery word ( figure out the mystery -at word)
I selected three centers from the packet to start. The first was the playdoh mats. My dear sweet co-teacher and fabulous friend is not a fan of playdoh...and since the room is carpeted the custodian is likely not a fan either, lol. Guess what...that was A-OK because the kids loved using the wiki sticks to make their "At" words. They also love using the wipe off markers....funny the things that motivate kids (besides the appealing teaching activities of course).
Next we used the word cards with magnetic letters. The kiddo's found the missing beginning sound letter or matched the letter depending on their ability level.
And for their 3rd center they did the "At" Family take-home book. The kiddo's colored and filled in the missing "At"word.
And there was SOOOOO much more! It has enough activities for at least two weeks or more!! So guess what? Shuna is having a sale on this great packet! You can visit her TpT store and snag a copy. While you are there check out all of her other great items. I also love her Chicka Boom Playdoh Mats . She has 75 items in her store so you are sure to find something to fit your kiddo's needs....and they will LOVE it!!
OK,now for the best news...... Shuna said I can give away one copy of her 'At' word pack! And I am throwing in a copy of my September Kindergarten Common Core Homework Packet as well. Just follow the directions below and you will be entered to win!!
a Rafflecopter giveaway
Now head on over to
Pocket Full of Kinders
to see her review of my products. Stop back tomorrow! I have a brand new clip art set and I am giving away a copy of this to all of my followers!! Here's a sneak peek!!